You want a piece of me?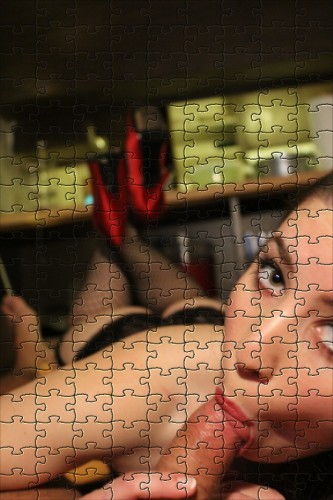 I have organized a puzzling little game to play with all of you! At this moment 18 custom postcard-sized puzzles (12 pieces each) are being manufactured with one of my favorite sexy pictures. Play the game to earn your pieces and put together your very own sexy Serena image! The first 10 to complete his/her puzzle has the chance to win an autographed (personalized with his name & signed by me) high quality 8x10copy of the original photo. The name will be chosen from a random drawing during a live show. Any of the remaining 9 winners can then purchase the autographed photo for a $40 Amazon gift card.
Ways that pieces can be earned:
- 5 kink tip on kinklive
- 5 min in Private on KL buys 1 piece, & most time in Private during your cam show (above a half hour) earns all 12 pieces
- 50 token tip on skin video
- $10 gift card or Amazon wish list item buys 1 piece, & high roller (above $80 gift card or wish list item) earns all 12 pieces
- $10 gift thru dwolla
- Donation of any amount to the Orphan Kitten Project (http://www.vetmed.ucdavis.edu/clubs/fmc/orphan_kitten_project/index.cfm)
- Posting a picture and comment on the fan club page (this only counts once)
- Twitter shout out and a retweet (only once)
- Drawing a joker in the card game (you can either chose a puzzle piece or a bid war)
- NEW!! Add me as a friend on Reddit and give me Karma! http://www.reddit.com/user/SexySerenaB/

** Don't forget to keep up with twitter posts, fan page updates, and live cam show announcements, for special ways you can earn more pieces or even a whole puzzle! As always, I love to hear your feedback on this. If everyone enjoys playing, I have more ideas for similar contests/games that we can play!